From The Guardian:


The Natural History Museum today unveiled its new £78m Darwin Centre, which shelters millions of plant and animal specimens within a giant concrete blob.

Among the previously hidden gems to go on display will be the centre's scientists, who will work in full view of the public when the attraction is opened next week.

Many of the experts said they were relishing the chance to perform in glass-fronted laboratories, some linked by intercom so visitors can ask about the work they are doing.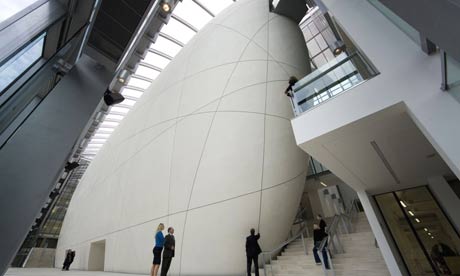 Sounds pretty cool - although a bit gimmicky. I can't imagine the experts are seriously relishing the chance to do research in full view of the public. I'm sure many members of the public will have interesting questions and comments but mixed in with that will be the inevitable trouble-makers simply knocking on the glass and buzzing in to ask where the toilets or the cafeteria are.
Still, I'm in London at the end of the month so I'll pop in and have a look...